Departure from Double Tree by Hilton Hotel by bus at 4:00 PM, return to the hotel at 6:00 PM
REGISTRATION FOR THE CITY TOUR ON THE DAY OF CONFERENCE REGISTRATION. THE NUMBER OF PARTICIPANTS IS LIMITED.
16.00-16.10 BUS TRANSFER TO UNICORN SCULPTURE.

Right next to Centrum Tram Station, nicknamed "Unicorns' Stable" by the locals, we can see a fairy creature – a Unicorn. A three meters high sculpture was created by the Japanese artist Tomohiro Inaba and brought to Poland through the sea at the end of last year. The monument was officialy uncovered on 7th of June, 2019.
16.10-17.20 A WALK WITH ENGLISH SPEAKING TOUR GUIDE THROUGH PIOTRKOWSKA STREET TO THE PLAC WOLNOŚCI.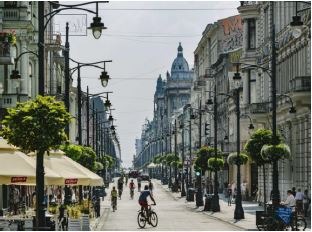 Piotrkowska Street is 4.2 km (2.6 mi) long, what makes it the longest promenade in Poland and one of the longest shopping street in Europe. Due to its unique buildings, the street has been entirely inscribed into the register of monuments. Along the street, there are old houses, industrialists' palaces and villas, churches and memorials including Gallery of Great Citizens of Lodz (Julian Tuwim's bench, Artur Rubinstein's piano, Władysław Reymont's runk and others). There are also monuments: Lodz Citizens of Millennium Change, Lodz Citizens of The New Millennium, Lodz Identity in the shape of thousands of setts with cast iron tables commemorating names of donators. The most convenient way of moving along the street is rickshaw.
17.20-17.30 A BUS TRANSFER FROM PLAC WOLNOŚCI TO MANUFAKTURA.
17.30-18.00 A WALK AROUND MANUFAKTURA, AND THE PALACE OF ISRAEL POZNAŃSKI (EXTERIOR).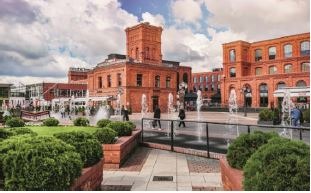 One of the biggest Polish commercial and recreational centers, it is located on the premises of the former factory of Izrael Poznański. The four-year restoration of the complex (former weaving mill, power plant, finishing facilities and the fire department building) was the first example of industrial space revitalization on such a large scale in Poland. This extremely successful combination of history and modernity has been granted awards on numerous occasions.
18.00 A RETURN TRIP BY BUS TO DOUBLE TREE BY HILTON HOTEL.